Temple Location Series: Water supply, Cisterns, Conduits, underground chambers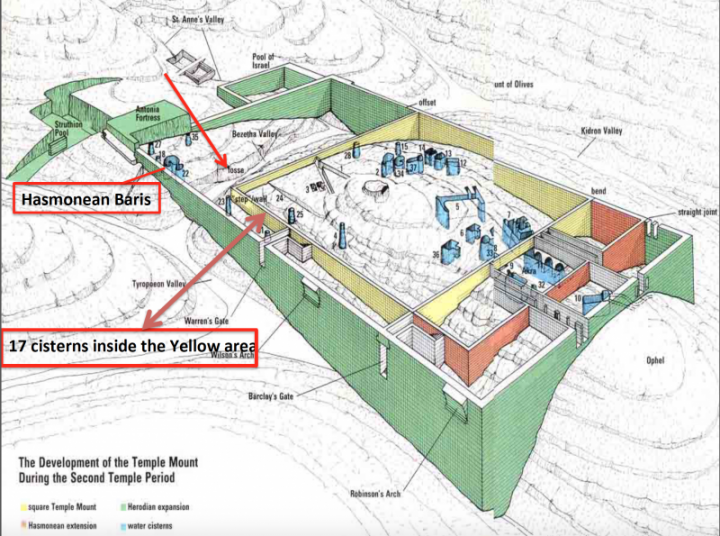 Temple Location Series:
Temple Mount underground cisterns, conduits and chambers.
This Temple location series is going to research the geographical, topographical, archaeological, historical, rabbinical and Scriptural evidence of the location of the Beit Hamikdash on the temple mount.
Ezekiel 43:10-12 Says
10 You, son of man, show the house to the house of Israel, that they may be ashamed of their iniquities; and let them measure the pattern.
If they be ashamed of all that they have done, make known to them the form of the house, and the fashion of it, and the exits of it, and the entrances of it, and all the forms of it, and all the ordinances of it, and all the forms of it, and all the laws of it; and write it in their sight; that they may keep the whole form of it, and all the ordinances of it, and do them.
12 This is the law of the house: on the top of the mountain, the whole limit of it round about shall be most holy. Behold, this is the law of the house.
(note, Please be mindful that the information on the PDF is base on years of research and investment and due to the topic and the lack of awareness of the information provided is important that you will value and be responsible with this PDF. One of my source alone cost me $300 for the information so consider the value of the information. This teaching is not base on assumptions, theories or ideas but on research verified by leading authorities in the archaeological, PEF and other researchers like Joseph Good and his work Measure the Pattern volume 1. I want to thank Joe Good for his dedication and his willingness to share, teach, and mentor me for the last 5 years.)
Please note: this is the abridged version. If you would like the full version, it is available in the Yeshiva section of the website.
Oops, this is members-only content
This page requires at least a Basic level membership to access the teaching.
Oops, you don't have access to this content
The following is a list of recommended resources for this teaching: