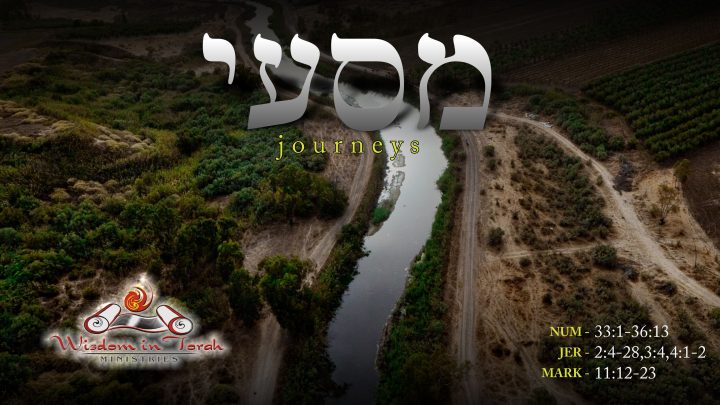 This Parashah covers a recounting of the stages that Israel went through since their journey from Egypt, directions for the conquest of Canaan, the boundaries of the land, naming of the tribal leadership, establishment of Levitical cities, establishment of cities of refuge, laws concerning the avenger of blood, and the ruling concerning female heirs.
This week's Torah portion deals with the 42 locations of the wandering of the children of Israel in the Wilderness. Also, we will find the plan of redemption in the commandment of the cities of refuge. I pray that this weeks torah portion will give you deeper understanding of the wisdom in YHVH and how He is always keeping his word and covenant with His people Israel even in the mist of trouble, disobedience, and rebellion.
In the plains of Moab by the Jordan at Jericho, the Lord spoke to Moses, saying: Speak to the Israelites, and say to them: When you cross over the Jordan into the land of Canaan, you shall drive out all the inhabitants of the land from before you, destroy all their figured stones, destroy all their cast images, and demolish all their high places.
In 1948, God restored Judah back to the land of Israel. Fast forward 66 years later and we are currently seeing the fruits of not kicking the idolatrous Muslims out of the land which God promised our forefathers.
But if you do not drive out the inhabitants of the land from before you, then those whom you let remain shall be as barbs in your eyes and thorns in your sides; they shall trouble you in the land where you are settling. And I will do to you as I thought to do to them.
Today, Hamas is a thorn in Israel's side. Not something that has the ability to kill you, but something that is a constant source of trouble. It should be no surprise that this week's Torah Portion (the 2nd in the 3 leading up to Tish B'Av) includes this warning to Israel.
This page includes Torah Portions from multiple years covered by Wisdom in Torah. Each year we covered the Torah from a different perspective so you can explore each Parashah from a different perspective and focus.
2010 Portions: Focus on Messianic connections in the Parashah
ANET Portions: Focus on the ancient Near Eastern cultural context of the Parashah
Mitzvot Portions: Focus on explaining and exploring the commandments found in the Parashah (in progress)
2015 Portions: Revisiting the Parashah looking at the ancient cultural context more in depth with additional areas that have been researched
Brit Portions: Focus on connecting the Brit Hadashah (New Testament) to the Parashah
Oops, this is members-only content
This page requires at least a basic level membership to access the teaching.
Oops, this is members-only content
The following is a list of recommended resources for this teaching:
There are no power points for this teaching, but for further studies on the Rites of Passage, please click on this link: The Rites of Passage