First Century Context of the First Century Writings (Complete Series)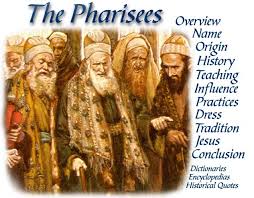 The Context of the First century writings will be our focus of study in this series. I will show the beliefs and dogmas of each religious groups and its political influences. Also, we will study the core issue in the first century and the hate the house of Shammai displayed against the Goyim.
---
How many types of Pharisees in the First Century?
The Jerusalem Talmud also criticizes the Pharisees in like manner. The Talmud describes seven types of Pharisees, five of whom are hypocrites, and two that are good:
Hypocrites
The Pharisee "shoulder" exhibited their good works before men as if they carried a badge of honor on your shoulder or chest. Yeshua began his allegations with references to this type of Pharisee (Matt. 23:4).
The Pharisee "expect to see" someone would ask him to wait a moment to see who could perform some charity.
The "blind" Pharisee close its eyes to avoid seeing a woman, even if it meant stumbling or bumping against the wall.
The Pharisee "mortar" walked with his head down to avoid seeing any temptation.
The Pharisee "counter" was always telling his good deeds to see if countered his evil deeds.
Good Pharisees:
The "God-fearing" Pharisee, who was a good and virtuous man
the Pharisee "lover of God", who had a real love of Elohim
---
The Priestly family:
AnásBen Seth(6- 15)
Eleazar Ben Ananus (16- 17)
Joseph Ben Caifás (18-36/37), married to the daughter of Anás(Juan 18:13 )
Jonathan Ben Ananus (36- 37)
Teófilo Ben Ananus   (37- 41)
Matthias Ben Ananus  (43)
Ananus Ben Ananus  (63)
Oops, this is members-only content
This page requires at least a Basic level membership to access the teaching.
Oops, you don't have access to this content
The following is a list of recommended resources for this teaching:
No additional resources at this time...