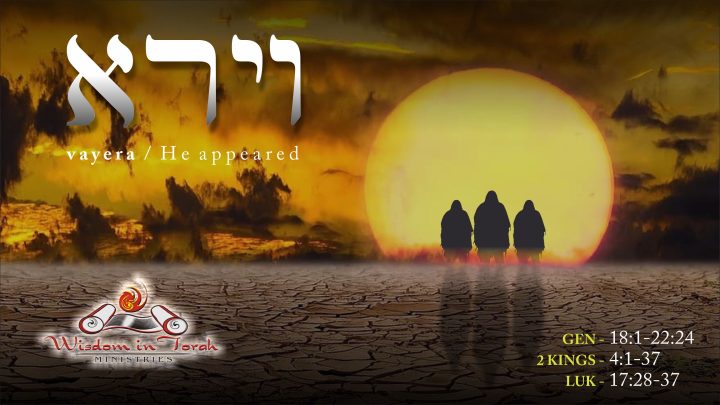 This Parashah covers the hospitality that Abraham showed to his visitors, the saving of Lot, the destruction of Sodom and Gomorrah, the promise of a child to Abraham, the birth of Isaac, and the binding of Isaac.
It's also about how the Memra of YAH revealing himself to Abraham and how Abraham interceded on behalf of Lot. The Binding of Isaac is one of the most important readings in Judaism they read it over 367 times during the whole year, every day during the morning prayers also during the feast of Yom Teruah is second reading of the feast. This torah portion is important because it points to Messiah and how Yeshua would carry the wood like Isaac did.
The above portions focus in some of the following topics:
In the Torah Nugget we will be focusing in on Genesis 18 and what it meant for Abraham and his descendants to "do righteousness and justice". This motif carries on throughout the Torah and failure to perform it was the major reason why Israel was sent into exile. It was also prophesied to be what Yeshua would/will do, establish justice and righteousness.
In the 2015 Portion our focus will continue with presenting the Concept of Honor and Shame. The chapters in this portion cover almost all the aspects attached to this topic.
-Ascribed Honor
-Acquired Honor
-Challenge and Riposte
-Maintaining of Honor by means of an Oath
In the Brit Portion, we will revisit the concept of righteousness and justice that is a theme found throughout Scripture and will connect it with the injustice and unrighteousness of Sodom which is a theme connected later to Israel's lack of righteousness and justice and how Yeshua is the one who came to restore righteousness and justice!
This page includes Torah Portions from multiple years covered by Wisdom in Torah. Each year we covered the Torah from a different perspective so you can explore each Parashah from a different perspective and focus.
2010 Portions: Focus on Messianic connections in the Parashah
ANET Portions: Focus on the ancient Near Eastern cultural context of the Parashah
Mitzvot Portions: Focus on explaining and exploring the commandments found in the Parashah (in progress)
2015 Portions: Revisiting the Parashah looking at the ancient cultural context more in depth with additional areas that have been researched
Brit Portions: Focus on connecting the Brit Hadashah (New Testament) to the Parashah
Oops, this is members-only content
This page requires at least a basic level membership to access the teaching.
Oops, this is members-only content
The following is a list of recommended resources for this teaching:
Social Justice in Ancient Israel and the Ancient Near East by Moshe Weinfeld (Amazon Link)