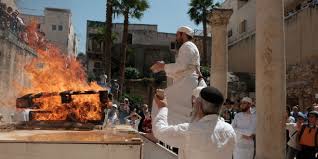 This is the main Topic that I have being studying and working on for the last 13 Years. I pray that this Teaching is a blessing to you. This is only the introduction for the temple service I will continue to add more and more information about the Tabernacle, Temple and its services. I pray that you enjoy it and be bless learning how to approach our King.
The Temple service is one of the areas that is most neglected in the Hebrew Roots movement. Many people reject Yeshua as their Messiah because of the lack of understanding of the Temple service, the Role of Yeshua as High Priest, and how He is the mediator for us before YHVH in the Heavenly Tabernacle. In searching and studying this subject for the last 12 years, I have come to understand that the Jews will never believe in Yeshua as long as the Church is presenting the gospel in the way they teach it. I pray that this teaching will increase your knowledge of the Temple Service and how the sacrificial service reveals the Mercy and Love of our Creator toward us, His covenant people.
Oops, this is members-only content
This page requires at least a Basic level membership to access the teaching.
Oops, you don't have access to this content
The following is a list of recommended resources for this teaching:
No additional resources at this time...