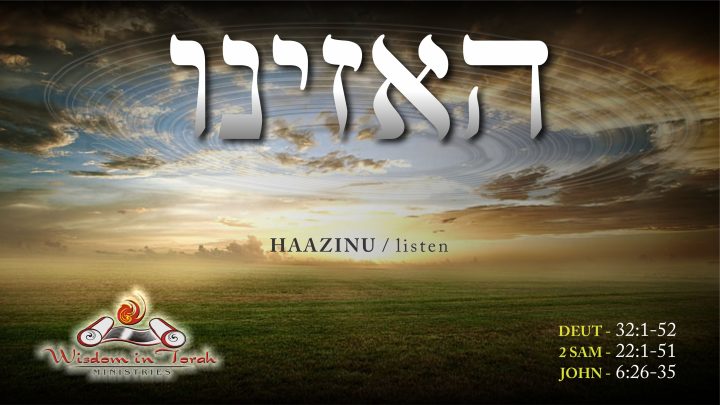 This Parashah covers the 2nd Song of Mosheh. Chapter 32 of Deuteronomy is called in the Ancient Near Eastern Context, a Covenant lawsuit and it legal ramifications to the breaking of the covenant. Also, it serves as a witness against the children of Israel. We should make an effort to learn this song and understand our duty to the covenant with our Great Suzerain YHVH.
We have seen how the world is taking a deep breath trying to figure out what to do in Syria in recent years and what kind of action to take for their chemical weapons use. One of the main arguments is about what legal right does the U.S. has to declare a limited war on Syria. The language used in this political issue is that of a covenant lawsuit against Syria for transgressing on a Covenant they signed 100 years ago. Syria agreed that they would not use chemical weapons and they broke that Covenant. So, now the world can take legal case to stop the killings in Syria. Haazinu is written as a song but with the legal characteristics of a Covenant Lawsuit. We will also connect some of the Metaphors used in the Ancient Near East with connection to the Torah and the message that YHVH is trying to convey to Israel as their God and Maker.
This page includes Torah Portions from multiple years covered by Wisdom in Torah. Each year we covered the Torah from a different perspective so you can explore each Parashah from a different perspective and focus.
2010 Portions: Focus on Messianic connections in the Parashah
ANET Portions: Focus on the ancient Near Eastern cultural context of the Parashah
Mitzvot Portions: Focus on explaining and exploring the commandments found in the Parashah (in progress)
2015 Portions: Revisiting the Parashah looking at the ancient cultural context more in depth with additional areas that have been researched
Brit Portions: Focus on connecting the Brit Hadashah (New Testament) to the Parashah
Oops, this is members-only content
This page requires at least a basic level membership to access the teaching.
Oops, this is members-only content
The following is a list of recommended resources for this teaching: