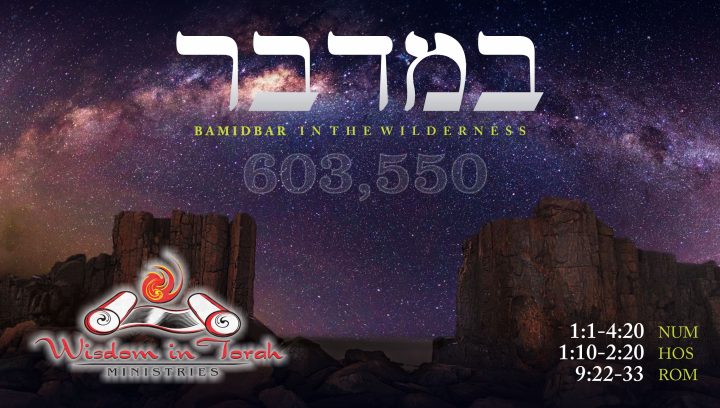 This Parashah covers the Israelite census, the order of movement, the Levites duties, the redemption of the first-born, and more.
In this portion we see a great example of how YHVH positions his kingdom and gives roles to the leaders of Israel. I believe that we as His kingdom should learn from this portion how to walk in the role our king calls us do for the kingdom. Walking in Unity does not mean that we have to agree with everything but walking in unity to preserve the Holiness of YHVH should be the lesson learned from this Torah portion.
We also discuss the Priestly order, which is a special office that YHVH gave as a Royal Grant to the Clan of Levi for an Eternal Inheritance. Many people do not realize how important it is for us to be aware of the legality involved in this work of the temple service and what would happen to those who would transgress against the Great King. I will show you some legal terminology found in the book of numbers that will reflect the seriousness of this grant and the consequences found in scriptures that play the role of the witness for us to learn. Korah, Nadad and abihu teaches us about how to respect the Oath, government and Hierarchic order of YHVH and His kingdom.
We will also be discussing the Honorable Role and Status Ascribed to the Levitical order of the Priesthood as well as making the distinctions between the Two Essential Priestly Orders, The Melchitzedek of the Macro-Temple in the Cosmos and The Aaronic/Levitical of the Micro-Temple on the Earth.
This page includes Torah Portions from multiple years covered by Wisdom in Torah. Each year we covered the Torah from a different perspective so you can explore each Parashah from a different perspective and focus.
2010 Portions: Focus on Messianic connections in the Parashah
ANET Portions: Focus on the ancient Near Eastern cultural context of the Parashah
Mitzvot Portions: Focus on explaining and exploring the commandments found in the Parashah (in progress)
2015 Portions: Revisiting the Parashah looking at the ancient cultural context more in depth with additional areas that have been researched
Brit Portions: Focus on connecting the Brit Hadashah (New Testament) to the Parashah
Oops, this is members-only content
This page requires at least a basic level membership to access the teaching.
Oops, this is members-only content
The following is a list of recommended resources for this teaching:
Dictionary of the Bible by John L. McKenzie
Law and Family in the Book of Numbers The Levites- by Ada Taggar-Cohen