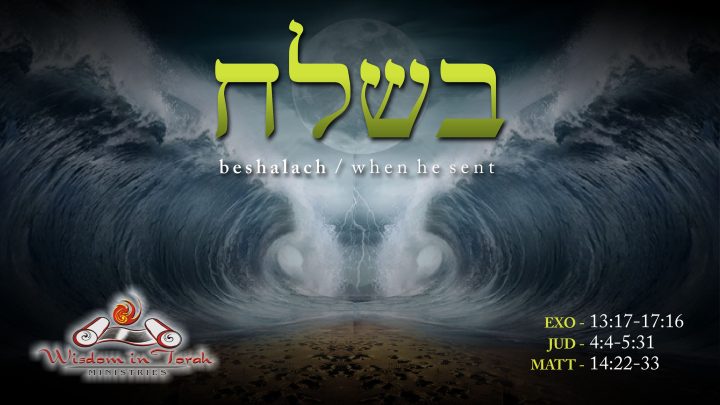 This Parashah covers the flight from Egypt and significantly the crossing of the Sea of Reeds. It's also about the Ancient Understanding of the Battle of the Cosmos and the Sovereignty of YHVH over the pagan gods. Did you know? Of the Ancient Trial by Water and the belief that the gate of the underworld was the sea. Did you know that in the Ancient Near east if you came out of the trial by water and survived the currents then you are found innocent from the crime they were accused of.
Have you ever wondered why Moses was not killed after the daughter of Pharaoh found him? Did you know why YHVH selected the waters to bring chaos during the Flood? Did you know why Yeshua walked on water and what was the message that can only be understood by knowing the Ancient near eastern Mythology and beliefs. I pray that this Portion will open your understanding of reasons for judgement from YHVH.
This page includes Torah Portions from multiple years covered by Wisdom in Torah. Each year we covered the Torah from a different perspective so you can explore each Parashah from a different perspective and focus.
2010 Portions: Focus on Messianic connections in the Parashah
ANET Portions: Focus on the ancient Near Eastern cultural context of the Parashah
Mitzvot Portions: Focus on explaining and exploring the commandments found in the Parashah (in progress)
2015 Portions: Revisiting the Parashah looking at the ancient cultural context more in depth with additional areas that have been researched
Brit Portions: Focus on connecting the Brit Hadashah (New Testament) to the Parashah
Oops, this is members-only content
This page requires at least a basic level membership to access the teaching.
Oops, this is members-only content
The following is a list of recommended resources for this teaching:
Cosmography (shape and structure of the cosmos)
The Exodus Case
The Riddle of The Exodus